Island Scenery
Nature and culture - explore the charm of the island
Prefecturally Designated Protected Species / Natural Monument
Akara Utaki Ubame Oak & Ryukyu Pine Plant Community
Located on a hill 66m above sea level, Akara Utaki is said to be the place where Sho En's elder sister Masenigani prayed for his safety when he left the island. Nearby is a thicket of Ubame Oak trees roughly 3-4m high. Akara Utaki also affords views of both Agi Gitara and Umi Gitara, which provide the most fantastic scenery on the island.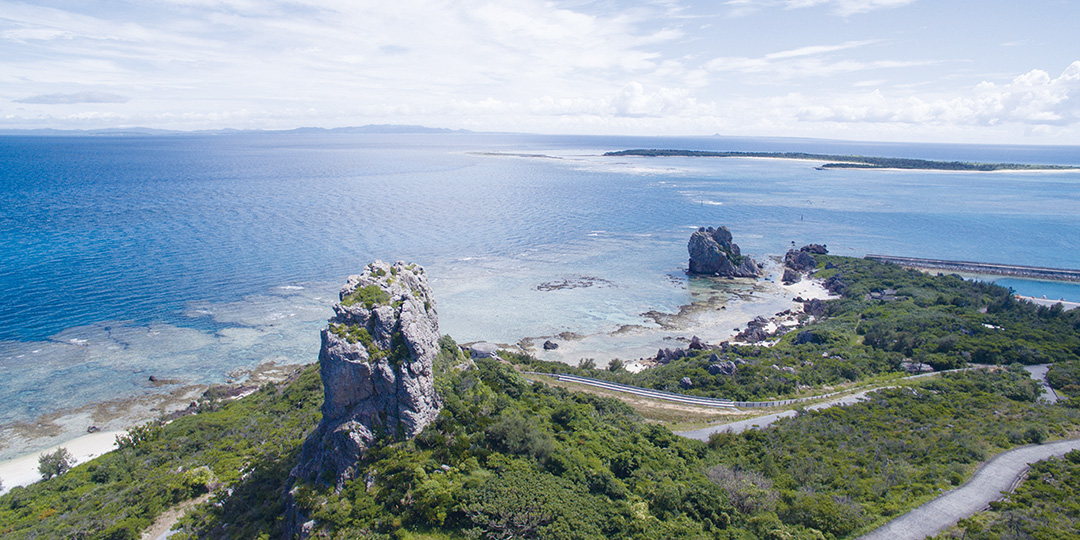 Meanwhile, on the west side of the island, there is a beach near Nakada Port called Ushufuncha. This is where Sho En set off from, and together with his wife and younger brother, they crossed over to Kunigami on the main island, where they lived for a while in a community called Ginama.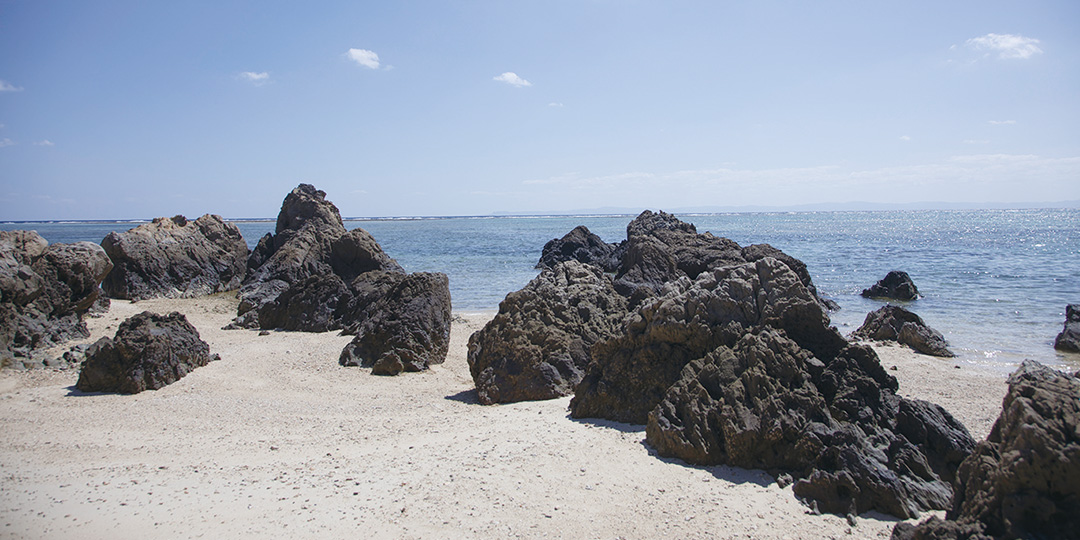 Looking at Ushufuncha, you can see the Seaside Fureai Park that adjoins Nakada Port, and beyond that also the community of Shomi, where Sho En was born.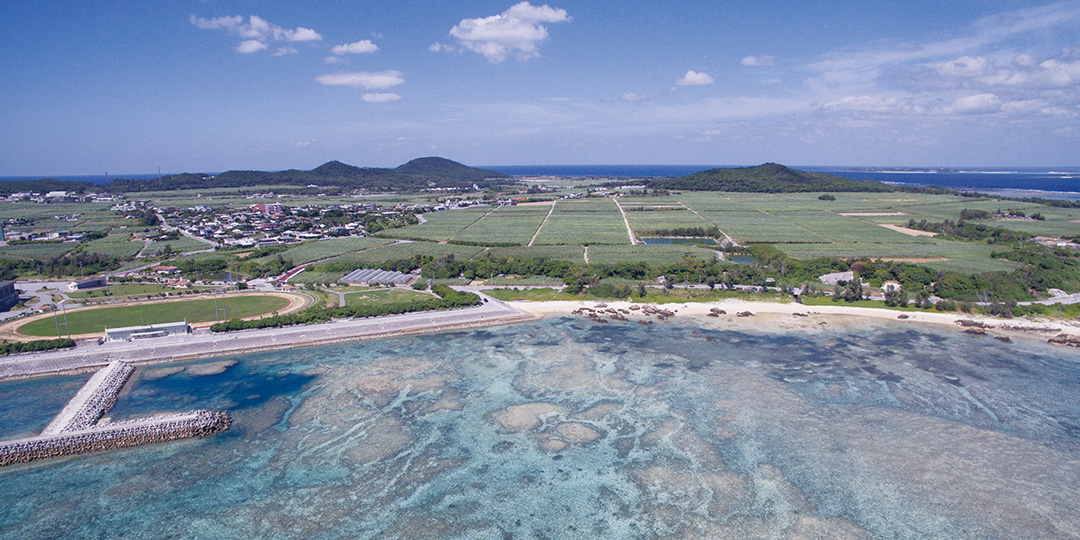 Prefecturally Designated Protected Species / Natural Monument
Izena Castle Site Iwahiba Plant (Selaginella tamariscina)
Village Designated Protected Species
Izenagaya
If enjoying the beauty of the ocean is more to your taste, then we recommend the beach at Futami ga Ura. It is the stretch of land from the site of Izena Castle to Umi Gitara, and its emerald green waters, white sand, and rough boulders create some magnificent scenery. You can also see some rare flora. In addition to the Ubame Oaks mentioned earlier, the Iwahiba and Izenagaya at the site of Izena Castle are also designated cultural properties. The Iwahiba is a member of the fern family. Also found on Iheya Island and Kume Island, its distribution is small because it exists only in particular conditions.
The Izenagaya is a member of the grasses family that grows to a height of around 30cm. While common in Australia, it is a fairly rare species in Okinawa.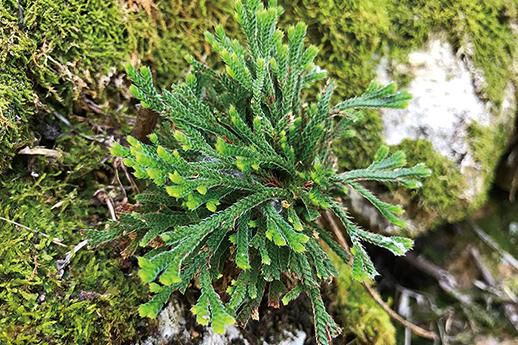 Village Designated
Historic Site / Place of Scenic Beauty
Churainjo
In the south of the island, there is a spot near the site of Izena Castle called Churainjo that has been designated a historic landmark and place of scenic beauty. It is also known as the stage for a tragic love story.
Long ago, a young woman called Nakandakari Makate lived on Ie island, which can be seen from Izena Island. She was the most beautiful woman on Ie Island, but she was in love with Matusgane, a youth from Izena Island, who would take his boat to Ie Island to visit her. But Makate was unable to endure the waits for her lover, and went over to Izena Island. However, as she lacked the courage to go to his house, she instead built a hut on an outcrop of rock and wove cloth for him while she waited for his visits. It is said that the textiles she wove were so exceedingly beautiful that the people of the village started to call the place Churainjo, which means "Place of Beautiful Weaving." However, once word got around, it became difficult for Makate to remain on Izena, and she reluctantly returned to Ie Island.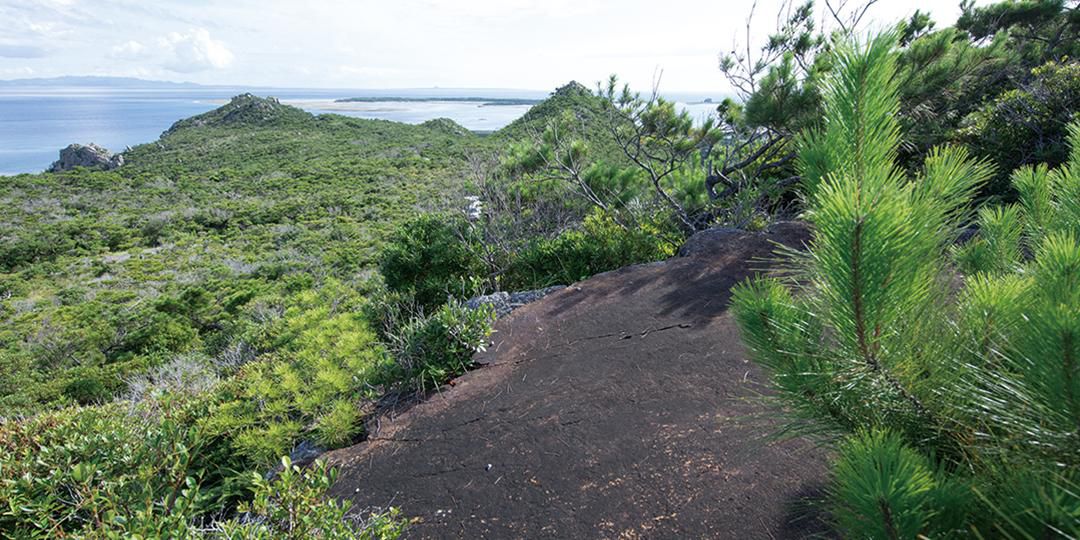 The lovers continued to meet on Ie Island, but local youths were jealous, and followed Makate to the beach where Matsugane would arrive in his boat, with the intention of shaming her. Cornered, and unable to escape, it seemed Makate would fall into their hands, but she instead flung herself from a cliff, in order to preserve her chastity. Arriving at the beach a short time later, Matsugane learned of the death of his beloved, and, unable to bear being without her, took his own life too.
Village Designated
Historic Site / Place of Scenic Beauty
Aagayama Houkadai (Signal Fire Platform)
Signal fires had long been an important means of communication to warn of enemy attacks, but the signal fire platform at Aagayama was mainly used to make Nakijin Castle, located roughly 25km to the south, aware of any Chinese or Satsuma ships that were discovered. These days, the observation deck there commands a view of the mountain range on Motobu Peninsula where the remains of Nakijin Castle are. Incidentally, the information received by Nakijin Castle was apparently relayed using signal fires all the way to Shuri Castle.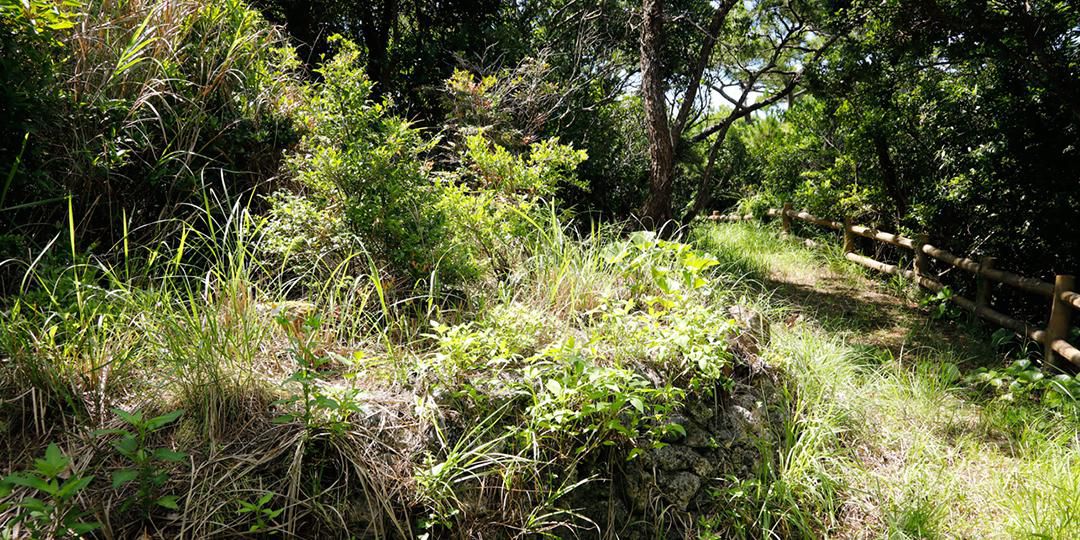 Village Designated
Historic Site
Izena Minato
The entranceway to Izena Island is Nakada Port on the east side of the island, but until the Taisho period, the main port was apparently Izena Minato, in Izena hamlet. These days, Izena Minato is part of Izena Fishing Port, and has been bequeathed as a village designated cultural property. When looking out from Churainjo, where the beautiful Nakandakari Makate from Ie Island would weave cloth while waiting for her love, the island of her birth floats above the horizon, with Izena Minato located in the lower right of that vista.