The Bloodline of Sho En
View various treasures reflecting a connection with the royal line
Nationally Designated Tangible Structure
Mekaru Family Residence
The Mekaru Family Residence, is the house of Sho En's uncle. During the days of the Ryukyu Dynasty, the Mekaru family served as the administration officials (equivalent to village mayors) for Izena for generations.
Inside the gate is a barrier called a Hinpun that hides the main building from view. The building itself has red tiles for the roof, with a room for entertaining visitors on the right, and a separate detached area to the left used to house livestock. This kind of structure is a common feature represented in the houses of Ryukyu families with warrior ancestors. The building that stands today is one that was rebuilt in 1906, but in addition to having escaped wartime destruction during the Battle of Okinawa, it remains in good condition, and in 1977 it became a nationally designated important cultural property.
Nationally Designated Tangible Structure
Tamaudun
The grave called Tamaudun houses the remains of Sho En's parents, his older sister and her descendants, and Sho En's ancestors. It is accepted that Sho En's son, King Sho Shin, the third king of the Second Sho Dynasty (reign: 1477-1527) built the Tamaudun in Izena after he built the world-heritage-listed Tamaudun at Shuri. It is assumed that this was the next important grave to King Sho Shin after that of the royal family. It was originally in a different location, but was moved three times. The building at the current location is judged to have taken place in 1688.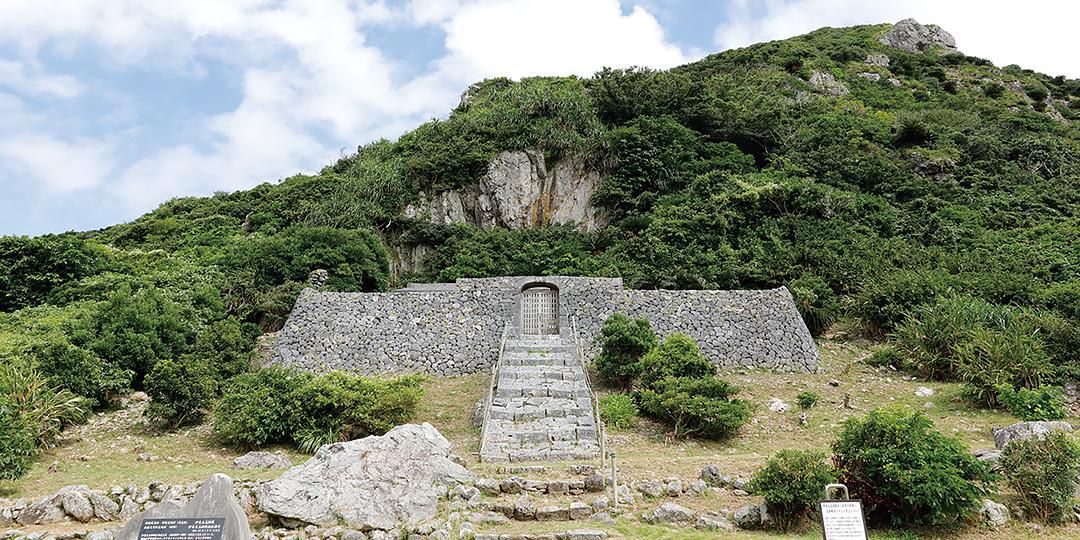 Village Designated Tangible Sculpture
Stone Sarcophagi (2)
The Tamaudun has two chambers, and in the chamber on the east side, there are two stone Zushi (sarcophagi) made from high-grade stone from China. The first sarcophagus (shown in the photograph below) contains four skulls, while the second sarcophagus (shown in the photograph further below) contains the remains of generations of Iheya Amuganashi. The remains of Sho En himself are not here, but that it is the grave of Sho En's family is certain. According to commonly accepted theory, King Sho En is buried in the eastern chamber of the King's Tomb at Shuri.